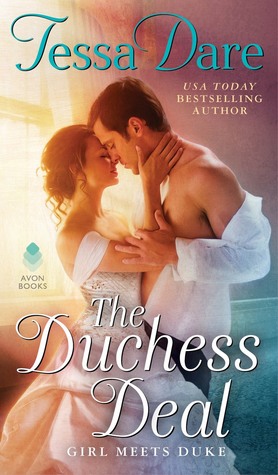 The Duchess Deal
by Tessa Dare
Series: Girl Meets Duke #1
Genres: Historical Romance
Publisher: Avon
Publication Date: August 22nd 2017
Source: eBook
Rating: ★★★★★
When girl meets Duke, their marriage breaks all the rules…

Since his return from war, the Duke of Ashbury's to-do list has been short and anything but sweet: brooding, glowering, menacing London ne'er-do-wells by night. Now there's a new item on the list. He needs an heir — which means he needs a wife. When Emma Gladstone, a vicar's daughter turned seamstress, appears in his library wearing a wedding gown, he decides on the spot that she'll do.

His terms are simple:
- They will be husband and wife by night only.
- No lights, no kissing.
- No questions about his battle scars.
- Last, and most importantly… Once she's pregnant with his heir, they need never share a bed again.

But Emma is no pushover. She has a few rules of her own:
- They will have dinner together every evening.
- With conversation.
- And unlimited teasing.
- Last, and most importantly… Once she's seen the man beneath the scars, he can't stop her from falling in love…
So... I talked about this a while back, but I'm gonna say it again... I had never read an historical romance! I'm not counting the classics here, because as much as I might love them, they have nothing on this one, eheh.
When my fantastic co-bloggers found out this tidbit, they MADE ME read some. LOL. They didn't make me, but
they kind of implied it was a big failing on my part and I should correct it as soon as possible
. Being the good girl that I am, I asked for some recommendations, and
The Duchess Deal
by Tessa Dare was one of the recommended book. I'm so so glad I started with this one, because
I'm in love with it
.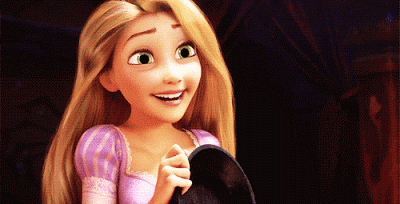 I wasn't expecting to love the writing as much as I did. I'm usually not a fan of the 3rd person, but I loved it here.
The book is told through the 3rd person
, but it gives us the perspective of the two main characters. I felt like I got to know them perfectly. I got to know their voices and their personalities, and
I fell in love with the characters
.
And the humour! OH MY GOD!!! I freaking loved the humour on this book, I couldn't get enough of it.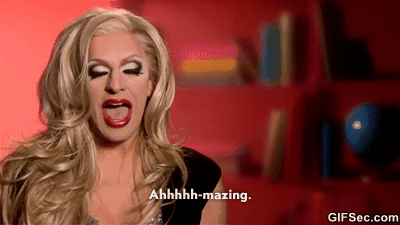 Emma is brilliant.
She's so strong and fierce
. After all that she's been through, she still sees the best, and is always ready to fight for those she cares about. She's brilliant. And Ash is just too good.
His sense of humour was the best
, and I really liked his character development throughout the book.
The romance was epic. I love romances that build slow, and this one did, but it was also super hot and sweet and brilliant. Have I mentioned how much I loved this book? Yeah... Ash and Emma together were amazing, and their banter was on point. Freaking epic!
So, as you can see, my first adventure into Historical Romance went quite well, and I absolutely loved Tessa Dare's The Duchess Deal. I can't wait to read more from this author, and I need book 2 in this series ASAP. Also, I'll now read whatever Lisa and Nick tell me to 😉😏.
Now back to you, guys. Have you read this book?
What's your take on it?
Do you have any more awesome Historical Romances to recommend to me?