So guys, you've heard of J. Daniels, right?
You better, because she's awesome and she writes awesome books. Either way, today I'm gonna do mini reviews for J. Daniels series, Dirty Deeds. So far, there are only 3 books out, but man, are they worth it.
As you must have notices by now, I like contemporary series, and this is another one of those where a group of friends become family, and everything is better because of it.

I've decided that today, I'm going to do mini reviews of the books that are out so far for this series, because it's worth it, and you guys should be picking it up.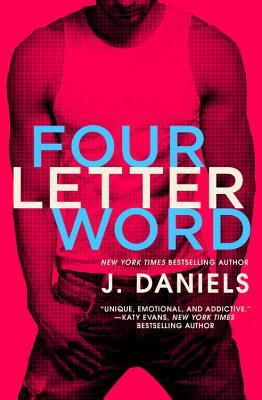 Four Letter Word (Dirty Deeds #1) [

«

«

«

«

«

]

Fate. Hate. Love. Lies.

Which four letter word will change their lives forever?

Sydney Paige was never so mortified to hear the words "wrong number" in her life. She meant to tell off the guy who broke her best friend's heart but unleashed her anger on a perfect stranger instead. And now her world is turned upside down by the captivating man who wants to keep her on the line.

Brian Savage is living a life he's quickly come to hate-until Sydney's wild rant has him hooked and hungry for more. Soon the sexy woman on the phone becomes the lover in his bed. But Brian has secrets, and the closer he lets Syd get, the harder it is to shield her from the devastating mistakes of his past . . .
Deanna recommend this series to me, and she was always like "you have to read it, it's amazing, ... ". I fully trust her opinion, so an opportunity to review the 3rd book in the series opened up, I requested it, and then I thought: "I better read the other 2 first, then!". I'm very glad I did.
Sydney and Brian's story was completely unexpected. The writing was amazing, and I've come to realize all J. Daniels' books are amazingly written. It's a perfect mix of dirty, sweet, funny and heartbreaking.
The main characters are complex, and when they are together, they're amazing. I loved how their story started, and how their relationship evolved before they even met. So, even though it went a bit fast from there, it made sense, and it fit with the characters and their background.
The plot was hilarious and quite unique, and I really liked all the twists and revelations. Overall, a great start for the series. Also, look at that cover... I'm in love with the covers for this series.
Hit the Spot (Dirty Deeds #2) [«

«

«

«

]

Is this love or just a game?
Tori Rivera thinks Jamie McCade is rude, arrogant, and worst of all . . . the sexiest man she's ever laid eyes on. His reputation as a player is almost as legendary as his surfing skills. No matter how her body heats up when he's around, she's determined not to be another meaningless hookup.
Jamie McCade always gets what he wants. The sickest wave. The hottest women. And Tori, with her long legs and smart mouth, is definitely the hottest one. He knows Tori wants him-hell, most women do-but she won't admit it. After months of chasing and one unforgettable kiss, it's time for Jamie to raise the stakes.
Jamie promises that soon Tori won't just want him in her bed, she'll be begging for it-and he might be right. Somehow he's found the spot in her heart that makes her open up like never before. But with all she knows about his past, can she really trust what's happening between them? Is Jamie playing for keeps or just playing to win?
I loved Jamie and Tori from book 1. They were great best friends to Sydney and Brian, and the chemistry between them was off the charts. So I knew their book was going to be explosive. And indeed it was.
I really liked this book, I just wished there had been less games played. Another thing that bugged me a bit was how fast Jamie fell for Tori. He was kind of obsessed with her, and her with him as well, but this was before they even really knew each other. Also, Tori was easy to judge, and I'm not a fan of that. Also, some things that Jamie did and said were a bit too much...
Jamie and Tori were definitely entertaining and I liked their romance, I just didn't like it as much as the Syd and Brian's. But this one was definitely steamy and hilarious, eheh 😉.
Bad for You (Dirty Deeds #3) [

«

«

«

«

«

]

Shayla Perkins isn't the kind of girl who makes the same mistake twice, especially when it comes to Sean "Stitch" Molina. So when he gives her the world's biggest rejection, that's it — she's done. Until the sexy, silent, unavailable Sean makes Shay a very personal offer. Of course, it still doesn't mean he's interested in her. Or does it?
Sean has done things in life. Bad things. And he's paid the price. All he wants now is to make up for his past by doing good in the present. And no one deserves more good than Shay. Beautiful on the inside and out, Shay is the kind of woman who should be cared for and protected — especially from a man like Sean. He's tried to keep his feelings for her in check, but a single, reckless impulse pulls them closer than ever before.
Soon the two are sharing their biggest dreams and satisfying their deepest desires. But what will happen if the only way to truly give one another want they want most . . . is to let each other go?
This was definitely my favorite book of the 3 so far. Shayla and Sean were the most unique characters, and this was such a slow burn romance. The fact that they've had feeling for each other for a long time, and they don't act on it, broke my heart.
There is so much character development, and Shayla is so fiercely protective of Sean, and it's adorable! I loved it.
Also, I've mentioned before that I have a soft spot for single dads, right? And here, I loved the relationship between Shayla, Sean, his little girls, and their mother. It's so different from what is usually portrayed. Loved it!
Also, all the friendship!!! AMAZING!
So guys, have you read any of these books?
Are you interested in any of them?
Please read them, such amazing stories...