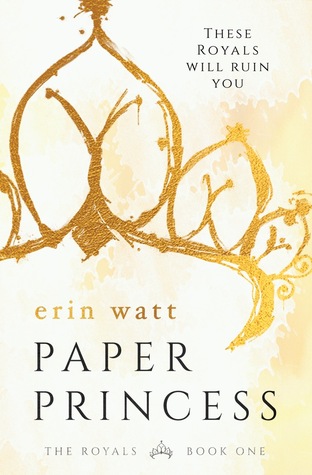 PAPER PRINCESS
by Erin Watt
Series:
The Royals #1
Genres:
Contemporary, New Adult
Publisher:
Self-Published
Publication Date:
April 4th 2016
Source:
ARC from authors for review
Rating:
★★★
★
Amazon
-
Barnes & Noble
From strip clubs and truck stops to southern coast mansions and prep schools, one girl tries to stay true to herself.

These Royals will ruin you…

Ella Harper is a survivor—a pragmatic optimist. She's spent her whole life moving from town to town with her flighty mother, struggling to make ends meet and believing that someday she'll climb out of the gutter. After her mother's death, Ella is truly alone.

Until Callum Royal appears, plucking Ella out of poverty and tossing her into his posh mansion among his five sons who all hate her. Each Royal boy is more magnetic than the last, but none as captivating as Reed Royal, the boy who is determined to send her back to the slums she came from.

Reed doesn't want her. He says she doesn't belong with the Royals.

He might be right.

Wealth. Excess. Deception. It's like nothing Ella has ever experienced, and if she's going to survive her time in the Royal palace, she'll need to learn to issue her own Royal decrees.
All images courtesy of Pinterest
I didn't even need to know what
Paper Princess
was about only that it was being co-written by two of my absolute favorite authors, Elle Kennedy and Jen Frederick. Both their books have given me similar feels, so I was beyond excited for
Paper Princess
. I'm not going to lie, it wasn't the kind of book I was expecting from the two, but regardless, I had so much fun reading it and I'm looking forward to more in the series, especially after that jaw-dropping ending.
Ella was a tough-as-nails character, brave, and one who dealt with her not-so-great situation with her head held high. After her mother's passing, she had to rely on working at a strip club to pay the bills and fake documents so she could attend school and not be sent into the foster system. When Callum Royal, her late dad's friend, entered her life, she's suddenly thrust from a world of rags to riches. Things weren't easy for Ella at the Royal mansion and she was initially wary and very hesitant to accept Callum's help. You have to admire her strength and the bravery she showed in the face of all the Royal jackasses though. They were mean to her, made sure she didn't have friends at school and tried to make her life miserable because they thought she was a gold digger sleeping with their dad. She was a fierce girl and I found myself wanting her to kick all their butts off!
The Royal brothers were real pieces of works. You hate them, but you also secretly love them. Reed Royal was especially a giant loveable asshole. He tormented Ella and was plain rude to her, but you can also see that he was fiercely attracted to Ella and her intelligence. They have some really intense chemistry and I just kept waiting for them to rip their clothes off! Despite all the hate between them, they started to slowly care for each other as they understood each others' personalities. There's a ton of tension and drama between them and it's definitely not smooth sailing, but I really had a ton of fun watching them push each others' buttons. With the way things ended in this one, I'm looking forward to seeing how Reed and Ella are able to work towards their relationship.
Reed's brothers were just as shitty initially as Reed was, but they all started to form a relationship with Ella towards the end. I'm definitely interested in seeing how their relationships progress. This is a really messed up family, including the rich dad!
Paper Princess
definitely had a Gossip Girl vibe to it, with the glamorous lives, the riches and wealth and all the drama. That might put some readers off, but I had a heck of a time with all the drama and angst. It's actually quite fun and addicting and rather hard to look away. As expected, the writing was spectacular and it flowed really nicely. I was a bit frustrated by the cliffhanger because I had no idea this wouldn't be a companion series, but that's just a personal annoyance. I am SO ready for more.
Paper Princess
was a scandalous, fun and drama-filled, but entertaining read with a great cast. If you're a fan of both Elle Kennedy and Jen Frederick, pick this one up and become as obsessed as I am with these crazy rich people and all their drama.
Have you read anything by these authors? What are your thoughts on drama-filled books?
Let me know in the comments below!