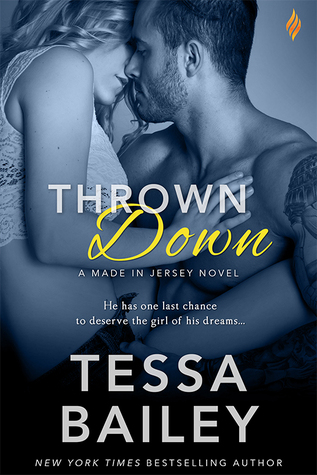 THROWN DOWN
by Tessa Bailey
Series:
Made in Jersey #2
Genres:
Contemporary, Adult, Erotica
Publisher:
Entangled Brazen
Publication Date:
April 4th 2016
Source:
ARC from publisher for review
Rating:
★★
★1/2
Amazon
-
Barnes & Noble
He has one last chance to deserve the girl of his dreams...

Overachiever River Purcell was never supposed to be a struggling single mom, working double shifts just to make ends meet. Nor was she supposed to be abandoned by her high school sweetheart, breaking her heart into a thousand jagged pieces. Now Vaughn De Matteo is back in town, his sights set on her...and River is in danger of drowning a second time.

No one believed Hook's resident bad boy was good enough for River. Not even Vaughn himself. But he'll fight like hell to win back the woman he never stopped loving, to keep the daughter he never expected, and convince himself he's worth their love in the process--even if he has to rely on their fierce and undeniable sexual chemistry.

But even as River's body arches under his hungered touch, the demons of the past lurk in the shadows. Waiting for Vaughn to repeat his mistakes one last time...
Tessa Bailey is the first author I think of when I'm in the mood for a quick, steamy and romantic read. I had some issues with the first book in this brand new series,
Made in Jersey
. But I was excited to read
Thrown Down
because it has one of my favorite tropes of all-time, second chance romance. Thrown Down, overall, was a stronger book than
Crashed Out
.
I was initially a little bit iffy about the premise of the book. River and Vaughn had an intense relationship when she was in high school, but circumstances lead to them breaking up with River pregnant and Vaughn leaving town. Years later, Vaughn finds out that he has a daughter with River and is willing to do anything in order to get back with the love of his life so he can finally be with his family. Vaughn and River, at first glance, were complete opposites when it came to personality. She was the good girl, who was expected to go far in life while he was the bad boy that her parents warned her to stay away from. There were times when I was a bit frustrated with Vaughn because he acted too alpha, and would force River to make decisions that she didn't want to make like going to her workplace and making a scene because he didn't want her working there. Those kinds of scenes made me want to slap him, but I was glad that River also refused to budge from her stand.
Despite their differences in personality, their romance from the very start was passionate and full of love. The chemistry between them was palpable and very intense and I found myself rooting for the two of them. River made Vaughn want to be a better person and he made her want to go after what she desired. Together as a couple they were great. River was definitely a little wary to let him back into their lives, but she also couldn't ignore the passion they shared. One of my main issues with
Crashed Out
was that I felt like there was no balance between the emotional scenes and the physical scenes. It was one sexy times scene after the other and it got old very fast. Here, I thought Tessa Bailey did a great job with balancing out the emotional side and the steamy scenes. I liked the steamy scenes overall, but I will admit that Tessa Bailey's dirty talk is becoming over the top, unsexy and plain strange at times. I personally think she needs to tone it down a bit and maybe go back to her roots with the dirty talk. Another small issue I had with
Thrown Down
was that we barely even got to see Vaughn interacting with his daughter. If he was so bent on becoming a member of the family, he needed to work on also getting close to the kid and I didn't think we saw that at all throughout this book because he was so focused on seducing River.
Even though I had some complaints when it comes to this book, I enjoyed reading it overall. None of Tessa Bailey's newer books have lived up to her original series for me, but that doesn't mean I don't find them to be entertaining especially when I'm in the mood for a short book with some great sexy times. If you're a fan of the author and this series, you will most definitely enjoy
Thrown Down
.
Have you read any book by Tessa Bailey? Are you interested in reading Thrown Down?
Let me know in the comments below!