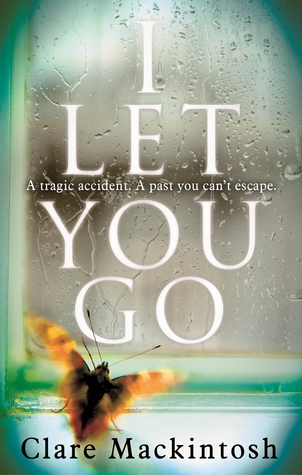 I LET YOU GO
by Clare Mackintosh
Genres:
Suspense, Crime, Thriller
Publisher:
Sphere
Publication Date:
November 9th 2014
Source:
Bought
Rating:
★★★
Amazon
-
Barnes & Noble
In a split second, Jenna Gray's world descends into a nightmare. Her only hope of moving on is to walk away from everything she knows to start afresh. Desperate to escape, Jenna moves to a remote cottage on the Welsh coast, but she is haunted by her fears, her grief and her memories of a cruel November night that changed her life forever.

Slowly, Jenna begins to glimpse the potential for happiness in her future. But her past is about to catch up with her, and the consequences will be devastating . . .


I've been in the mood for more mystery novels lately and
I Let You Go
was one that came highly recommended. I was excited to dive into the story and to be surprised by all the twists and turns. That didn't quite happen, but for a debut book, I thought this was great. So as not to spoil anyone, I'm going to use a different format for this review.
Characters
Clare Mackintosh is ridiculously talented at characterizations. She writes characters that are vivid and so well-developed. I have zero complaints about them.
The book is told in multiple POVs in third person and each POV is brilliantly crafted. There all have all these varying personalities.
The book is mainly told in Jenna, a woman who moves away to Welsh coastal town after the accident. Her POV was my favorite. It's raw, heartbreaking, but also filled with hope. I rooted for Jenna and wanted to see her thrive in every aspect of her life.
Readers are also privy to the stories of the detectives handling the case. I wasn't sure I liked their story though, especially because they have this weird attraction going on and Ray is a married man. I think what bothered me the most was that we don't see an aftermath of a kiss Ray and Kate share.
Towards the second half of the book, we also get the POV of a psycho who was brilliantly repulsive. You get to see his charming side evolve into full-on psychopath and the journey was excellent in a very creepy way.
Mystery & Plot
I Let You Go has multiple twists and turns in the story. The first twist particularly was so unpredictable and had me gasping out loud.
After that first twist though, everything else turned out to be too predictable for me unfortunately. Once the psycho's POV came into the story, it was so easy to see where the story was headed.
I was unhappy with the openness of the ending of I Let You Go. With mysteries, I want to feel comfortable and satisfied with the endings, but here I didn't get that feeling when I read the last page.
So overall, I Let You Go was a strong book that I definitely recommend reading, but for me personally, it wasn't the best thriller I've ever read. Still, I'm excited to see what the author comes up with next.