Hi guys!
How is everyone doing this week? My week was good (for once yay!). A lot of things are starting to move in a good direction and I'm relieved. Plus, all those inspiring speeches this week have given me hope! Seriously, can we talk about how amazing and inspirational Michelle Obama's speech was? Talk about wow!
I'm always a little nervous to share my reviews/graphics with authors on Twitter, but I was really excited about my review for A Promise of Fire by Amanda Bouchet, so I tweeted her a link and omg her reaction made my whole day!
— Amanda Bouchet (@AuthorABouchet) July 28, 2016
— Amanda Bouchet (@AuthorABouchet) July 28, 2016
I had a huge smile on my face the whole day thanks to her reaction!
Anyways, let's get to the recap part of my week in review!
- I have been waiting for what feels like forever to read A Scot in the Dark, having loved the first book. So as soon as I had some free time, I jumped right into it. It was a blast though I did have some issues with its length and at times, I wanted more from the romance. Overall though, I really enjoyed it!
- I know some readers had issues with Reliquary, the first book in this series, but I really enjoyed it. I think I liked the sequel, Splinter, even more, especially as the love triangle is gone for good and Mattie finally makes a decision. I can't wait for the last book to be out.
- I'm very conflicted about how I feel about Worked Up. I have been noticing that Tessa Bailey's writing just isn't as addicting as it used to be. Something about it is different, and I felt it here again. While I liked parts of the romance, it all happened SO quickly, it was very unbelievable, in my opinion. Also, the dirty talk. Yikes! I'm all for dirty-talking heroes, but Tessa Bailey's heroes are becoming more and more crude and repulsive. So the dirty talk has gone from sexy territory to "eww-wth-this-is-so-cringey" territory. I actually skimmed the sexy scenes here which is unheard of for me!
FAVORITE READ OF THE WEEK: Splinter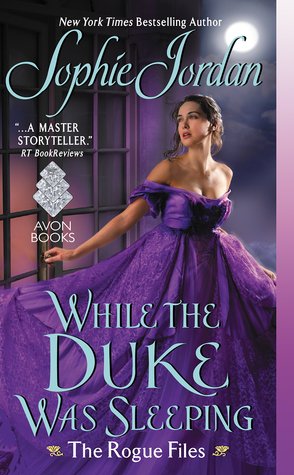 I wasn't sure if I was going to get Sophie Jordan's While the Duke Was Sleeping, but Avon sent an email with a widget and I figured why not. It sounds good anyways. Though I'll admit I'm very 50-50 when it comes to Sophie Jordan's titles. Some I've loved, some I've disliked. I also got The One That Got Away because it reminds me a bit of Taylor Jenkins Reid books!
Giveaway
I have 10 ARCs of A Promise of Fire by Amanda Bouchet up for grabs thanks to the lovely people over at Sourcebooks Casablanca. Here are two ways you can win one of them!


a Rafflecopter giveaway
— Nick (@nickofthebooks) July 29, 2016
How were your weeks?
Let me know in the comments below and don't forget to leave links to your recaps!