What I Just Finished Reading/Am Currently Reading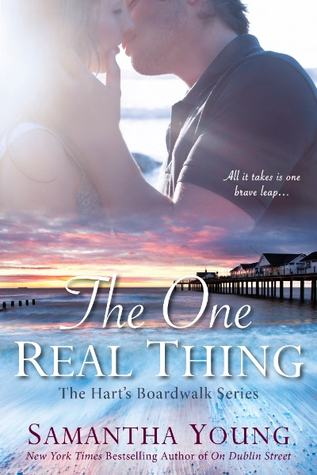 The One Real Thing by Samantha Young
I just finished reading The One Real Thing by Samantha Young and I really enjoyed it. The characters were all really great, and I absolutely loved the small seaside town setting. I'll admit that I wasn't a huge fan of the secret-keeping on Jessica's part, but Cooper was amazing. Samantha Young knows how to write one heck of a steamy and emotional romance. The only other thing I didn't particularly care for was the switch from first person POV in Jessica's chapters to third person in Cooper's ones. It abrupted the flow of the story for me at times. Other than though, I was invested in this series and I can't wait for more!
What I'm Waiting To Read
Breath of Fire by Amanda Bouchet

You all know how obsessed I am with A Promise of Fire, so it's obvious that the sequel, Breath of Fire, is high up my most-anticipated reads of 2017. I can't wait to see how the events unfold in the next book and I also can't wait to see how Griffin and Cat handle their obstacles. Also, look at that pretty cover! I NEED.
What You Should Be Reading
Sweet Little Lies by Jill Shalvis
If you haven't picked up a Jill Shalvis book, now is the time to do so with Sweet Little Lies, the first book in her newest series. It has a charming setting, adorable characters and some cute fur-babies. Plus, the books are funny!
Happy Wednesday! Have you read books by authors featured in this post? Tell me about your most recent favorite adult romance novels.
Let me know in the comments below!