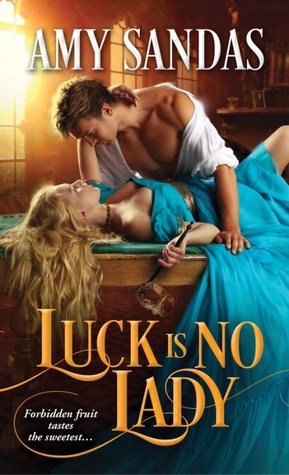 LUCK IS NO LADY
by Amy Sandas
Series:
Fallen Ladies #1
Genres:
Contemporary, New Adult
Publisher:
Sourcebooks Casablanca
Publication Date:
April 5th 2016
Source:
ARC from publisher for review
Rating:
★★★
★
Amazon
-
Barnes & Nobles
Gently bred Emma Chadwick always assumed she'd live and die the daughter of a gentleman. But when her father's death reveals a world of staggering debt and dangerous moneylenders, she must risk her good name and put her talent for mathematics to use, taking a position as bookkeeper at London's most notorious gambling hell. Surrounded by vice and corruption on all sides, it is imperative no one discovers Emma's shameful secret or her reputation-and her life-will be ruined.

But Roderick Bentley, the hell's sinfully wealthy owner, awakens a hunger Emma cannot deny. Drawn deep into an underworld of high stakes gambling and reckless overindulgence, she soon discovers that in order to win the love of a ruthless scoundrel, she will have to play the game...and give in to the pleasure of falling from grace.
I'll be honest,
Luck Is No Lady
was a book that I added to my TBR because of the beautiful cover. I'm such a sucker for a lovely cover and this definitely had one. Thankfully, the inside of
Luck Is No Lady
was just as great as the outside and I had a blast reading this historical romance novel.
Emma, the main character in this book, was a complete breath of fresh air for a historical romance heroine. I easily connected with her character and found myself rooting for her happiness early on. She was a sweet and caring young woman, who is trying to give her sisters a life they deserve after their parents' passing. She also was intelligent and was comfortable around numbers, a skill that comes in handy. I admired Emma so much for the strength she showed in the face of so many obstacles. Being a young woman in that kind of situation in those days wasn't easy as you can imagine, but Emma handled every hurdle that she came across with her head held high. I loved her so much! Being the selfless girl that she was, she always put others before her, so when Roderick swept into the story, I was thrilled because I wanted this girl to be loved with the passion she deserved. Roderick, himself, was a bit of an unconventional hero for a historical romance. He was wealthy, but he was still a bastard in society so he never was able to fit in. He was smart though and used his intelligence to open up a successful gaming club. Roderick was a little rough around the edges at first, but he opened up to Emma slowly throughout the book and I grew to really love him, especially when tried to help Emma out. Talk about swoon!
Their relationship was beautifully developed. There was no insta-love here at all. They share a sexy encounter in the dark at a ball, but after that they really got to know each other before they jumped into bed. I loved that they were a couple that talked and became emotionally acquainted with each other. It was a sweet developing romance and I loved the conversations they had. I think what I loved most about Emma and Roderick's romance was how Roderick didn't act all alpha-male when it came to her. Instead, he let her do her thing, and was supportive of her whenever she needed the help. Besides the lovely romance,
Luck Is No Lady
also portrayed a lovely siblings relationship between Emma and her sisters, Portia and Lily. These girls formed a close-knit family, along with their aunt, who was an absolute riot herself. The subsequent novels in this series will be Portia and Lily's books and I'm excited to get to know them better and also see more glimpses of Emma and Roderick.
This first book in the
Fallen Ladies
series is one I see many fans of historical romance enjoying. It has a smart heroine, a swoony hero, a sweeping romance and lovely writing. It's not to be missed by fans of the genre.
What are some historical romances you've read with unconventional heroines?
Let me know in the comments below!