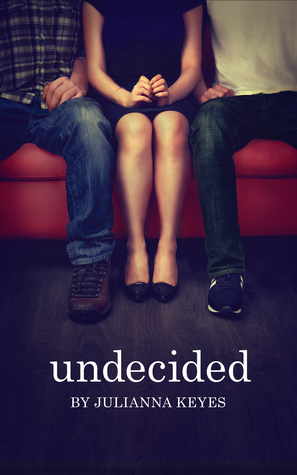 UNDECIDED
by Julianna Keyes
Genres:
Contemporary, New Adult
Publisher:
Self-Published
Publication Date:
April 4th 2016
Source:
ARC from author for review
Rating:
★★★
★1/2
Amazon
-
Barnes & Nobles
Nora Kincaid has one goal for her second year of college: be invisible. Last year's all-party-no-study strategy resulted in three failed classes and two criminal charges, and if she messes up again she'll lose her scholarship. But there's one problem with her plan for invisibility, and his name is Crosbie Lucas: infamous party king, general hellraiser…and her new roommate's best friend.

Crosbie's reckless reputation and well-known sexcapades aren't part of Nora's studious new strategy, but as she's quickly learning, her new plan is also really boring. When Crosbie's unexpected gestures of friendship pull her head out of her books long enough to see past his cocky veneer, she's surprised to find a flawed and funny guy beneath it all. The muscles don't hurt, either.

But as Nora starts to fall for Crosbie, the weight of one of last year's bad decisions grows even heavier. Because three failing grades and two misdemeanors are nothing compared to the one big secret she's hiding…
When I first came across the cover of
Undecided
, I immediately dismissed it because it screamed love triangle to me, and we all know how I feel about those. I am so thankful to Alyssa at The Eater of Books for casually mentioning to me that this was her favorite NA read of all time and for easing my worries about a love triangle.
Undecided
is one of the BEST NA books I've read in a very long time and I don't hesitate one bit to call this book one of my favorite reads of the year.
What made this book so great for me was Julianna Keyes handling of the story. This could easily have veered into love triangle territory with lots and lots of drama and angst, but she surprisingly managed to stay away from all of those. Instead, she wrote a book with a ton of charm and an entirely loveable cast of characters. I wasn't sure that I would love Nora at first - she's a party girl who decides to turn her life around and actually be good for once and focus on her studies - but I ended up loving her character so much. She was a strong girl, who knew what she wanted and was willing to work for what she needed. I especially loved how she stood on her own feet in order to make the changes necessary for her life and learned from her mistakes, even though I did feel that her completely cutting off romantic relationships from her life was a bit extreme, but I couldn't help but admire her determination.
More than I loved Nora though, I loved Crosbie! Man, I fell HARD for this boy and by the end of the book, I was more than a little jealous of Nora for having him. Why can't fictional boys come to life our commands? Actually, I don't think that would be a good idea ... I would probably be arrested for owning a harem. At first glance, Crosbie is a typical manwhore college athlete, but he was so much more than that. He was a real sweetheart and kind of a big marshmallow. Plus, he was charming and funny and certainly knew how to win a girl's heart.
Undecided
also had a great cast. I had moments of ups and downs with Kellan, Nora's crush (which she loses very early on) and new roommate, because he was a dog with his treatment of women, but he was also funny from time to time and showed his potential with his sweet side towards Nora. Some girl needs to tame him and I can't wait to see how. His friendship with Crosbie was one of the highlights of the book for me. Nora had some great friends too in the form of her fellow coffee-shop employees, who had their own side story going on. I'm hoping Julianna Keyes writes a book for them too. :)
Now to the best part, the romance of course! Like I said, Nora started off the book with a crush on Kellan, who she had had a one night stand with during her partying days, but she gets over that crush very early on. Once she's interested in Crosbie, he's the only one she's interested in. Their romance was super adorable and gave me all the feels! They had some steamy moments together, but what I loved even more were the emotional scenes. The two of them talking together, bantering and being playful with each other just brought about all kinds of swoonage on my part. And guys, you know how there's a misunderstanding towards the end of any romance novel? Well,
Undecided
had it too, but the way Crosbie reacted to it was EVERYTHING. I think I fell even more in love with him during that scene. Seriously,
Undecided
had one of the best romances I've ever read and I'm craving more already!
NA lovers, you do not want to miss out on
Undecided
. It's charming, light, funny and had so much of heart to it. Julianna Keyes is a force to be reckoned with and I can't wait for her to delve more into the genre and entertain us with these adorable romances.
Have you been put off by books because of their covers? Are you interested in reading Undecided?
Let me know in the comments below!