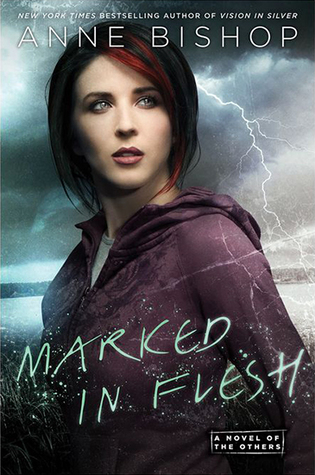 MARKED IN FLESH
by Anne Bishop
Series:
The Others #4
Genres:
UF, Paranormal
Publisher:
Penguin/ROC
Publication Date:
March 8th 2016
Source:
Bought
Rating:
★★★
★
Amazon
-
Barnes & Noble
For centuries, the Others and humans have lived side by side in uneasy peace. But when humankind oversteps its bounds, the Others will have to decide how much humanity they're willing to tolerate—both within themselves and within their community...

Since the Others allied themselves with the cassandra sangue, the fragile yet powerful human blood prophets who were being exploited by their own kind, the delicate dynamic between humans and Others changed. Some, like Simon Wolfgard, wolf shifter and leader of the Lakeside Courtyard, and blood prophet Meg Corbyn, see the new, closer companionship as beneficial—both personally and practically.

But not everyone is convinced. A group of radical humans is seeking to usurp land through a series of violent attacks on the Others. What they don't realize is that there are older and more dangerous forces than shifters and vampires protecting the land that belongs to the Others—and those forces are willing to do whatever is necessary to protect what is theirs…


It's crazy how Anne Bishop's
The Others
series has swiftly managed to become a series that I'm completely obsessed with. Simon and Meg's relationship is one major reason why I love this series, but these books have so much more to offer. With each book, the stakes keep getting higher, so I was
a lot
a little nervous about diving into
Marked in Flesh
. While the first half of the book was a little rough for me (though I want to attribute that to my lousy reading mood lately), the second half of
Marked in Flesh
blew me away and left me simmering in excitement for the series finale.
I mentioned this in my series review for the first three books, but I love how this series explored the dynamics between the humans and the Others. In
Marked in Flesh
, my hatred for the humans skyrocketed with their deceitful and disgusting actions. Things are undeniably tense between the humans and the Others here because of the HFL movement and there were some truly heartbreaking moments in this book that made me simultaneously want to curl up in a ball and cry and push all the gross human beings off a cliff.
As a result of all the tension, Meg and her friends are sick with worry. The Others are questioning how close to humanity they want to get. Add to that Meg and the other cassandra sangue are getting terrifying visions that show a grim fate for the Others. Even though
Marked in Flesh
had a gloomy feel to it because of all that's going on in the world, Anne Bishop was still able to infuse moments of lightheartedness. The Others continued to crack me up from time to time - a certain letter in an Etiquette Column especially made me laugh out loud. It's an impressive feat in my opinion, when an author is able to bring some spirit into a story that seems so dark.
I was also anxious to learn more about the Elders and they are front and center in this book. They were able to make me fear for the lives of everyone and also made me giggle with their reaction to Meg and wolf cookies. Marked in Flesh, or this series in general, isn't a fast-paced story. There's a lot of waiting for things to blow up, but it's never boring. One thing that I struggled with in this book though was the vastness of the world. While the series started off with a focus on the Courtyard, the focus has now shifted into including broader areas, which also means you're constantly being introduced to new characters. I will admit it was a bit daunting at first, but once I settled in comfortably halfway through, I found myself breezing through the book.
I do wish that
Marked in Flesh
focused a little bit more on Simon and Meg - I didn't think there was enough of them here, and they are a huge part of why I can't get enough of this series. However, the ending scene made it all worthwhile. I'm crossing all my fingers and toes with the hopes that
Etched In Bone
will progress their relationship a lot more. Despite how slow their relationship has been, I ship them with every fiber of my being.
I will miss these characters dearly when the series ends next year, but I know 100% that these are books that I will revisit down the line with multiple re reads. If this isn't a series you have checked yet and you're a fan of urban fantasy, you are seriously missing out on one of the best written stories out there.
Have you picked up this series yet? What's your favorite thing about it?
Let me know in the comments below!