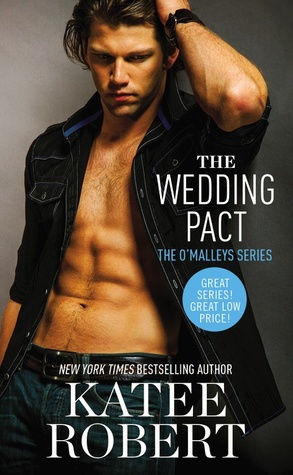 THE WEDDING PACT
by Katee Robert
Series:
The O'Malleys #2
Genres:
Contemporary
Publisher:
Forever
Publication Date:
April 26th 2016
Source:
ARC received for review
Rating:
★★★
★
Amazon
-
Barnes & Noble
Carrigan O'Malley has always known her arranged marriage would be more about power and prestige than passion. But after one taste of the hard-bodied, whiskey-voiced James Halloran, she's ruined for anyone else. Too bad James and his family are enemy number 1.

Hallorans vs. O'Malleys—that's how it's always been. James should be thinking more about how to expand his family's empire instead of how silky Carrigan's skin is against his and how he can next get her into his bed. Those are dangerous thoughts. But not nearly as dangerous as he'll be if he can't get what he wants: Carrigan by his side for the rest of their lives.
I read Katee Robert's
The Marriage Contract
last year and really loved the forbidden romance. In that book, we were also introduced to James and Carrigan's characters, who had so much chemistry, it was palpable whenever they were in a scene. Naturally, I couldn't wait for
The Wedding Pact
to be released so I could get their story and happily ever after in completion. It's safe to say I went in with lots of expectations and Katee Robert delivered in every single way.
I loved this book so much and could not get enough of the romance between James and Carrigan. Like with the first book, it was forbidden because they belong to rival mafia families. At the start of
The Wedding Pact
, Carrigan was still mad at James for having kidnapped her in the first book, despite the fact that he let her escape. She has vowed to never have anything to do with him, especially now that her dad was forcing her to choose a husband. Too bad for Carrigan because their chemistry was explosive and there was absolutely no ignoring that. I love it when romances focus equally on the emotional and the physical aspects, and that's exactly what Katee Robert did here. James and Carrigan had such a beautiful relationship here. I loved how they were so open with each other, talking about their fears and insecurities, and in the process making the other better. They were a complementary couple who anyone could see fit really well together.
What made this romance much more riveting was just how likeable both James and Carrigan were. You can't help, but root for their happiness and romance to thrive despite all the obstacles they had to face. Carrigan with her fierce loyalty to her family and strength and James with his smarts and kindness made for an in incredible couple that I shipped with every fiber of my being. Throughout
The Wedding Pact
, the two of them grew together becoming better versions of themselves. Of course, the steamy scenes laced with banter and bickering were also super hot and entertaining, like I've come to expect from a Katee Robert novel.
The O'Malleys
series is also deeply entrenched in family - yet another aspect of this series that I love. The families are complicated, messy, loving, protective and embody everything families are. I was especially grateful to the insight into Cillian's character, whose book is coming next. His POV was honestly soul-crushing because even though the death of their brother in the previous book hit him the hardest. He was consumed his guilt, but no one in his family knew or understood the extent of his grief. I just really wanted to hug this big guy and tell him everything would be all right. I can't wait for more of Cillian!
This second installment in the
O'Malleys
series was just as brilliant as the first. Katee Robert really shines in this series with her incredible story telling, romance and characters. If you're a romance-addict and have yet to read this one, I urge you to do so. You won't regret it one bit!
Have you read any book by Katee Robert? What is your favorite forbidden romance novel?
Let me know in the comments below!