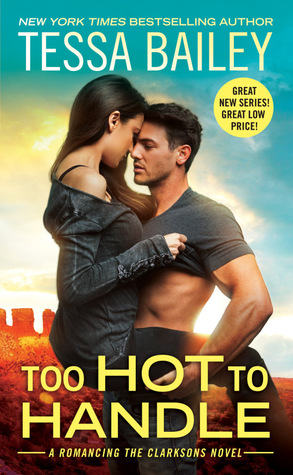 TOO HOT TO HANDLE
by Tessa Bailey
Series:
Meet the Clarksons #1
Genres:
Contemporary
Publisher:
Forever
Publication Date:
May 17th 2016
Source:
ARC received for review purposes
Rating:
★★★
Amazon
-
Barnes & Noble
When rescue looks like a whole lot of trouble . . .

The road trip was definitely a bad idea. Having already flambéed her culinary career beyond recognition, Rita Clarkson is now stranded in God-Knows-Where, New Mexico, with a busted-ass car and her three temperamental siblings, who she hasn't seen in years. When rescue shows up---six-feet-plus of hot, charming sex on a motorcycle---Rita's pretty certain she's gone from the frying pan right into the fire . . .

Jasper Ellis has a bad boy reputation in this town, and he loathes it. The moment he sees Rita, though, Jasper knows he's about to be sorely tempted. There's something real between them. Something raw. And Jasper has only a few days to show Rita that he isn't just for tonight---he's forever.
I'm always excited to jump into a Tessa Bailey book. I was particularly excited about
Too Hot to Handle
and this new series from her because it involves siblings. I was able to read Too Hot to Handle in one sitting, and my immediate reaction was that I liked it, but the more I sat on my review, the more I realized that this didn't read like a usual Tessa Bailey book and that it wasn't my favorite book from her.
The characters in this book were really well-written for the most part. I especially enjoyed the Clarkson siblings. They all had varying and very colorful personalities that at first glance didn't seem to mesh well, but as the book progressed, you see how much they care and love for each other. Rita was an okay character - she had just burned down her mother's restaurant and was struggling with what to do with her life after that. When she finds her mother's journal with the request to go to New York with her family, she jumps on the chance. Over the course of the book, Rita began to really grow into herself, becoming more confident and stronger. That being said, I didn't feel particularly connected with her character as I wanted to be. I think part of that stems from the fact that she wasn't as three dimensional as she could have been - she wasn't underdeveloped, but she had potential to be a better fleshed out character. I did really love the glimpses we saw into her relationships with her siblings. I would have loved more scenes between them because I loved watching them repair their fragmented relationships, but I'm excited to see more of them in the next books.
Now, Jasper, the love interest, I really really had a tough time with. Because of his man-whoring ways in his youth, he had gained quite the reputation and he was struggling with wanting to be taken seriously by his town people. It was definitely really interesting seeing this in a male character, but I have to admit his behavior got old real fast. He pushes any kind of physical relationship with Rita even though she is eager and willing. I got so frustrated by his behavior! His and Rita's relationship was definitely steamy (once they did get together), and they had great chemistry together, but I felt like the declarations of love came way too fast for my liking. I get being physically attracted in a matter of seconds, but love in a couple of days? It seemed over the top to me. And the thing is I couldn't really see why they fell for each other. I had a very mixed reaction to their romance.
In the end, I just didn't connect with the writing and characters in
Too Hot to Handle
as I hoped I would. This doesn't mean I disliked it, it just wasn't Tessa Bailey at her strongest. I liked it okay, but it had the potential to be so much better. I'm very curious about Belmont and Sage though so I will be continuing with the series.
What's your favorite Tessa Bailey book?
Let me know in the comments below!