Hi everyone!

I hope you all had excellent weeks. It was another busy week for me with shopping, packing and weddings. I'm starting to feel sad that this is going to be my last week at home with my family. I won't be able to return home until at least next December and I don't know how to handle that. I am looking forward to spending the rest of the month with them while traveling though.

This will also probably be my last week in review for a while. These posts don't take me a long time to write up, but I'm not sure what my WiFi situation is going to be like. I will have posts scheduled for the whole time I'm gone, so please stop by if you have some time. Once I'm all settled in, I'll return all your comments.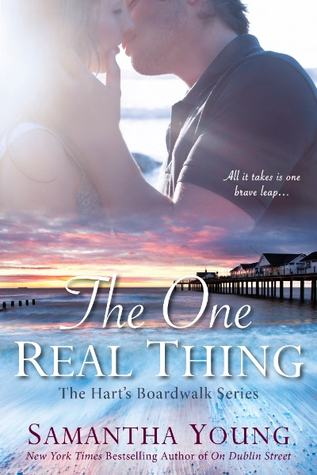 - Trouble Walks In was a sweet and romantic read. I really loved Ronan and Maddy together. It also had a small mystery to it that kept the book engaging. Plus, Ronan's bloodhound was an awesome addition to the story.
- I love Samantha Young, so I was eager to jump into The One Real Thing. I loved the small coastal setting and all the characters that we meet along the way. The romance was terrific too. The only thing that bothered me a little bit was that Jessica's POV was in 1st person, while Cooper's was in 3rd person. It hindered the flow of the story at times for me. Otherwise this was great though.
- Lenora Bell's debut book earlier this year was a breath of fresh air in historical romance. I was looking forward to seeing what she would do with If Only I Had a Duke and she exceeded every expectation I had. Thea and Dalton had a lot of banter and steam and I just couldn't get enough of it. I highly recommend this one to fans of Lisa Kleypas, Tessa Dare and Sarah MacLean.
FAVORITE READ OF THE WEEK: If Only I Had a Duke
This haul makes my romance heart so excited! I love Jennifer Dawson's books and I didn't realize that she had a new upcoming book. When I saw it on NG, I was quick to request a copy. I adored Amy Sandas' Luck Is No Lady, the firs in the Fallen Ladies series, and I have been eagerly awaiting news on the second book. Just look at that cover! I'm in love. Beautiful Crazy was a cover-pick for me. That's one seriously attractive couple. This is a debut author and I can't wait to read this one.
Thanks to all the wonderful publishers for these!
Guest Review Sign Up
How were your weeks?
Let me know in the comments below and don't forget to leave links to your recaps!